goddammit it's november already. by the time we know it, christmas will be here and then 2015 will kamakaze us in the face.  also, it snowed on saturday; just light flurries but more than enough to make me rage because i am not prepared for snow of any kind until it's closer to december 25. 

 you know what else can calm their tits?  DST, that's what.  FUCK YOU DST and your uselessness.  why is this even still a thing?!  when i last looked around, i don't live on a farm or need to this bullshit time change to get my crops going.  what i need to do is get on track with my jamaican peeps and say fuck DST because kayla woke up at 530am.  i woke up at 33oam since when my body was all confused because it thought it was 430am.  
with that rant out of the way, let's get started on this mini blogging zest i gots going on.  my project at work is going to deliver soon if the dillholes would just get their shit together and finish testing/bug fixing which leaves me some time to write.  obvs, a quick recap about halloween.  
kayla was a witch; that's a home made costume DIY'd by my cousin who gave it to kayla.  bonus for me since i was trying to figure out how to make a damn witch costume just short of wrapping her in black cloth with holes cut out for her arms and legs so hell yes i jumped at the chance to take this hand-me-down because lazy.  the weather sucked - it rained and it was fucking cold.  throw in punkass kids running all over the street and i was pretty much walking through my nightmare for about an hour and a half.  the end.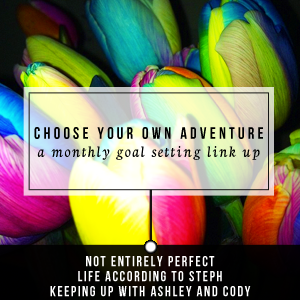 november's new choose your own adventure theme is organizing.  guys, i feel like i'm already ahead of this linkup because i kicked my biggest organizing challenge in the nuts when i made my kitchen my bitch and organized the shit out of it.  
now i can partake in more organizing fun by setting these November goals: 

1) finish christmas shopping.  
2) make christmas cards - 95% done, thanks to Old Hen Craft Day yesterday.
we were in none other than Paper + Cloth's workshop crafting our old lady hearts out. we also got to drool over her new stock so all you crafty bitches, get on this shizz because it's legit. 
3) create a "donation" bin on every floor of the house.  because our home is where crap comes to die; as in crap grow legs, wanders into my living/bed/bathroom and basement to make a home for itself to rest in peace.  well no more, crap! you ain't welcome up in hurr!
4) prep for winter - partially done since we went out yesterday and got kayla's winter gear.  we cheaped out last year and made her wear a snowsuit that was a tad too small and by that, i mean it would ride up her ass and give her a wedgy.  this year there was no way we could pull off that shit again because uncomfortable.
christalmighty, kids winter gear is hella expensive.  kayla got a swanky snowsuit made by Columbia and Sorrel snow boots. the best part: it only cost us $2 out of pocket because we had $250 worth in gift cards.  
other prep-for-winter goals:
++ make kayla a sparkly purple infinity scarf to go with her snowsuit - in progress.
++ wash all winter gear (coats, gloves, hats etc) - done.  by the way, washing down-filled coats is as easy as pie: wash in cold water (gentle cycle) and then shove in dryer with 2 tennis balls to fluff that shit up. 
do you have any november goals?
was mother nature a bitch and shat snow in your area too?