since i lay my humpday confessions link-up to rest (thanks everyone, for mourning it), i'm now free of link-up obligations and can regularly join fun ones hosted by none other than amanda and steph squared.
let's kick start this party with some favorites:
 // this adorable video
don't teach a cute puppy tricks with a bell otherwise he will never stop ringing it!
// another reason why i'm proud to be Canadian.  
this social experiment sparked a fantastic response from the citizens of Hamilton when anti-Muslim bigotry reared its ugly head.  read: the guy who was acting like an anti-Muslim asshole got cussed out and even punched in the face. Hamilton, you did good!
// Hue jeggings  
i swear, these jeggings are legit and win everything in life.  i have no idea how i'm going to go back to wearing regular jeans.
// kicking ass.
i already jizzed all over this blog about my first Muay Thai experience.
that kicking stand?  borrowed from my cousins so i can continue to punch and kick my way to a stress-free life.
// this new collage app.
Be Funky collage maker.  i like Pic Monkey but this one is way better for blogs!
*****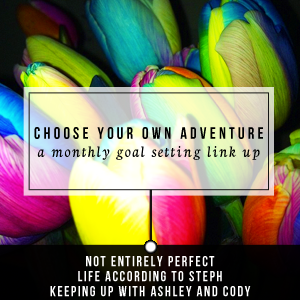 i joined steph squared's monthly link-up where this month's topic was food.  y'all know that i've already dominated this area with my cooking/kitchen skillzz and i'm not sorry to admit that i impressed the hell out of myself with the meals i've been making.  i was so serious about this link-up that i went out and bought this from the dollar store to pump up the jam with my food pics:

bbecause all pretend foodie bloggers always have nice, white backgrounds that make the dishes pop instead of messy kitchen crap ruining life, right?
i also decided to experiment with coconut milk; a simple ingredient that i've never incorporated into any of my recipes.  word of advice folks: don't be all gung-ho and open a giant, 5-cup box of coconut milk without being prepared to use all of it within 2 days.  that's right; coconut milk has a shelf life of 2 days after being opened before it starts to get funky and ain't nobody got time for food poisoning.
enter: all the coconut things - coconut milk cupcakes, butternut squash soup, pumpkin coconut bread and chocolate coconut milk frosting.  ok, i'll admit that i pretty much shoved coconut milk into anything that might sound appealing but for the most part, it all worked out. 
[recipe via sarah bakes]
the chocolate coconut milk frosting was so amazing! so easy to make, too:
Ingredients:
1/2 cup semi-sweet chocolate chips

1 cup powdered sugar

3-5 tbsp unsweetened coconut milk, room temperature
Directions:
melt chocolate chips in the microwave for 30 seconds.  stir, then microwave for an additional 15 seconds.  stir until melted.

add coconut milk and 3tbsp of powdered sugar. mix well until combined and creamy
my lunch earlier this week:  home made broccoli mac and cheese with fresh baked chicken parmesan for protein.  see below for recipes.
Baked Chicken Parmesan (adapted from skinnytaste)
Ingredients:
2 boneless, skinless chicken breasts

1/2 cup seasoned italian bread crumbs

1/4 cup grated parmesan cheese

1/4 cup panko bread crumbs (if you have; if not, don't worry about it)

salt and pepper

2tbsp butter, melted 
 Directions:
preheat oven to 450F.

prepare baking sheet: line baking sheet with foil; spray foil lightly with oil.

mix all bread crumbs and parmesan cheese in a shallow bowl.  add salt and pepper.

brush each side of the chicken breast with butter.  place in bread crumbs and ensure that both sides are evenly coated.

place meat on baking sheet, lightly spray the top of the chicken breast and bake for 20mins.

turn chicken over and bake for another 5-8mins or until cooked through.
Broccoli Mac and Cheese (via skinnytaste)
Ingredients:
1.5 cups pasta of your choice

1.5 cups broccoli florets

1/4 cup onion, minced

1.5 tbsp butter

1 cup reduced sodium chicken broth

2 cups skim milk

1/4 cup flour

2 cups reduced fat cheddar cheese, shredded

2 tbsp fresh grated parmesan cheese

1/4 cup seasoned italian bread crumbs

salt and pepper to taste
Directions:
preheat oven to 375F.

spray a 2quart baking dish lightly with oil.

boil pasta and broccoli together, al dente for the pasta.  drain, set aside.

in a large pan on low heat, melt butter.  add onions and cool until softened.

add flour. stir until flour is fully combined and looks golden.

add the milk and broth and whisk. increase heat to medium and bring to a boil, stirring occasionally.  add more salt/pepper to your preference.

when sauce has thickened, remove from heat, add shredded cheese and stir until melted.  add the pasta and broccoli and coat evenly.

pour into the baking dish and sprinkle the parmesan and bread crumbs on top; spray lightly with a little more oil.

bake for about 15-20mins, then broil for about 2-3mins until top is golden brown.
what i wasn't able to do:
:: crochet a hat for kayla's doll
:: make my own pumpkin puree....although this actually might come to fruition if we don't do anything with kayla's mini pumpkin.
 did you plan for any goals in October? do you have any future goals for November or the rest of the year?